Posted on
By Museum Webshop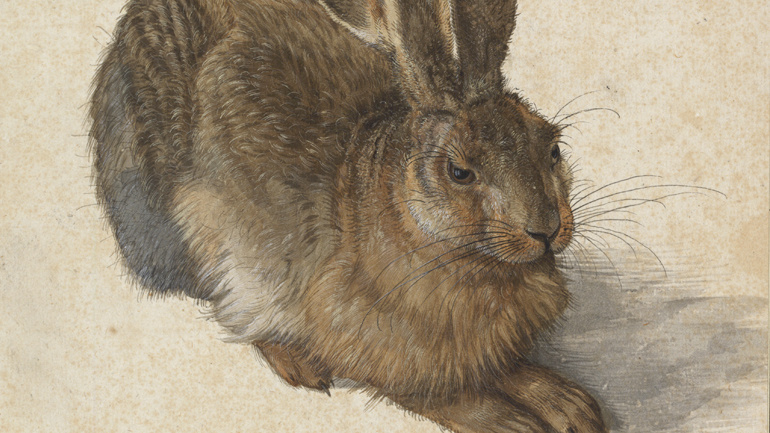 We are proud to introduce our new collection: Hare (1502) by Albrecht Dürer. Various products such as notebooks, canvas prints, tea towels and more. Read on and learn more about this German painter, draughtsman, maker of woodcuts and copper engravings, art theorist and humanist from the Northern Renaissance.
Dürer was born in 1471 as the third of eighteen children. He was trained as a goldsmith by his father and got to know painting and printmaking in the studio of Michael Wolgemut, who made woodcuts for books and other publications. Between 1490 and 1494 Dürer made a long trek. He stayed, among other places, in Haarlem and Basel, where he carried out a commission for the book printer and publisher Johann Amerbach. He made illustrations using the woodcut technique for various stories. He also learned techniques such as copper engraving and etching, where engraved copper plates can be printed.
On his travels to Italy, he became acquainted with the new insights of the Renaissance. He painted several self-portraits. He was impressed by the work of the Venetian artist family Bellini. Dürer was instrumental in spreading the knowledge of Italian Renaissance artists in Northern Europe. He is considered one of the key figures in the emergence of the Northern Renaissance. After his return from Italy he wrote four books on anatomy and the proportions of the human body. In his own work the influence of Italian Renaissance art can be clearly seen.
Dürer is best known for his versatility, he inspired many European artists of his time, but even centuries after his death he was still a source of inspiration.

Brand new collection
The ALBERTINA Museum in Vienna houses a large collection of Albrecht Dürer's works of art, as many as 140 works including the famous Hare, Praying Hands and the big sod. We were the lucky ones to design a collection for the ALBERTINA Museum with the statue the Hare, this collection is now for sale in the Museum Webshop.

View the entire collection here